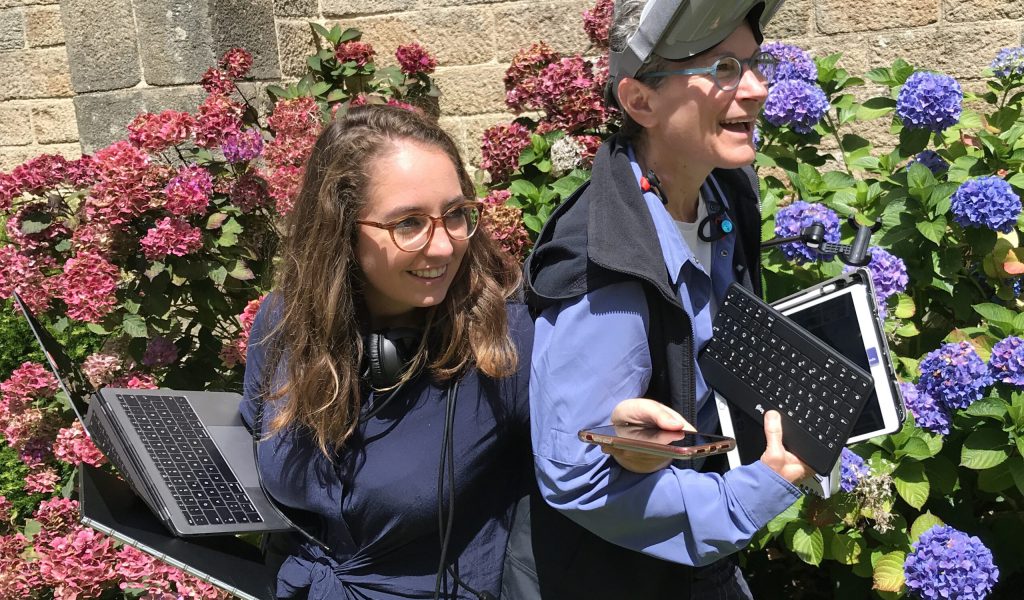 Bonjour friends!
We are announcing an extra Collaborative Storytelling Camp on September 18th 2021
We are inviting another 12 adventurous people to participate in a September Camp Laboratory of loosely-guided, co-creative storytelling.
We had a deeply connective, powerful and fruitful experience during our first Storytelling Summer Camp, and we are absolutely delighted to jump right back in and offer a second workshop. (If we keep getting requests, this might become a thing!)
We had numerous requests to host a story camp on the weekend because many people were on holiday or couldn't attend during the weekdays. They were bummed! We were bummed! Therefore, our second workshop will be available on a Saturday.
We are fascinated with the collaborative treasures that surface when we can all get out of our own way and let our creativity run free in the magic break-out-room-forest of curiosity, laughter, bravery and vulnerability.
Magic happens when we invest the time to roam around, allowing ourselves to play in unjudged spaces with other open-hearted animals.
14h–18h30 (4.5 hours), Cost: €347
Registration Link: Click here
Because of the financial pressures of COVID, we are offering 3 different payment options for our sessions and workshops:
1. Pay the workshop fee. Buy an "Entry into Storytelling Camp #2" ticket
2. Pay the workshop fee, plus donate part or whole fee to help support others who need a boost in their education/training journey. Buy an "Entry into Storytelling Camp #2" ticket for yourself. ➡ Add a Contributer Ticket to your cart by entering the amount you want to donate.
3. Contact us about a payment/trade/exchange arrangement. Be creative!
𝗥𝗲𝗾𝘂𝗶𝗿𝗲𝗺𝗲𝗻𝘁𝘀 & 𝗕𝗼𝘂𝗻𝗱𝗮𝗿𝗶𝗲𝘀:
This Summer Camp requires immersing ourselves into the realms of co-creative, emergent interaction.
Therefore:
-Come as you are. No preparation or "homework" is necessary.
-All of us need to make the 4.5-hour commitment, to the group, to stay within the campground for the duration.
-We need to agree to have our video cameras on, to facilitate the high level of connection and interaction needed.
If you don't feel this is an important element, this workshop is most likely not the right fit for you. We totally understand.
-We realize some of you might feel homesick or miss your families, but we highly frown upon calling your parents to come pick you up early, before the end of the camp.
-We have planned drink/snack and bio breaks, plus extra breaks if the group decides. 🙂
-There will be no aggressive language or actions tolerated.
-Please be sure to pack and bring an open, generous, empathetic and above all, curious mindset!
𝗛𝗲𝗿𝗲 𝗮𝗿𝗲 𝘀𝗼𝗺𝗲 𝗼𝗳 𝘁𝗵𝗲 𝘀𝘁𝗼𝗿𝘆 𝗲𝗹𝗲𝗺𝗲𝗻𝘁𝘀 𝘄𝗲 𝗺𝗶𝗴𝗵𝘁 𝗯𝗲 𝗰𝗵𝗲𝘄𝗶𝗻𝗴 𝗼𝗻:
Exploring your journey beginning: "Once upon a time.."
𝘊𝘢𝘭𝘭 𝘵𝘰 𝘈𝘥𝘷𝘦𝘯𝘵𝘶𝘳𝘦?
𝘗𝘦𝘳𝘮𝘪𝘴𝘴𝘪𝘰𝘯 𝘵𝘰 𝘞𝘢𝘯𝘥𝘦𝘳?
𝘍𝘪𝘯𝘥𝘪𝘯𝘨 𝘠𝘰𝘶𝘳 𝘚𝘦𝘤𝘳𝘦𝘵 𝘊𝘰𝘮𝘱𝘢𝘴𝘴?
Setting the plot: "Every day…"
𝘛𝘩𝘦 𝘊𝘩𝘢𝘳𝘢𝘤𝘵𝘦𝘳𝘴 𝘞𝘪𝘵𝘩𝘪𝘯?
𝘔𝘢𝘱𝘱𝘪𝘯𝘨 𝘠𝘰𝘶𝘳 𝘕𝘢𝘳𝘳𝘢𝘵𝘪𝘷𝘦?
𝘕𝘢𝘮𝘪𝘯𝘨 𝘠𝘰𝘶𝘳 𝘊𝘢𝘵𝘢𝘭𝘺𝘴𝘵?
Catalysts: "But one day.."
𝘓𝘰𝘰𝘬𝘪𝘯𝘨 𝘪𝘯𝘵𝘰 𝘵𝘩𝘦 𝘈𝘣𝘺𝘴𝘴?
𝘙𝘦𝘤𝘰𝘨𝘯𝘪𝘻𝘪𝘯𝘨 𝘛𝘩𝘳𝘦𝘴𝘩𝘰𝘭𝘥 𝘎𝘶𝘢𝘳𝘥𝘪𝘢𝘯𝘴?
𝘙𝘦𝘷𝘦𝘭𝘢𝘵𝘪𝘰𝘯𝘴 𝘢𝘯𝘥 𝘛𝘶𝘳𝘯𝘪𝘯𝘨 𝘗𝘰𝘪𝘯𝘵𝘴?
Transformations: "Because of that…"
𝘍𝘪𝘯𝘥𝘪𝘯𝘨 𝘩𝘪𝘥𝘥𝘦𝘯 𝘴𝘵𝘳𝘦𝘯𝘨𝘩𝘵𝘴?
𝘈𝘤𝘤𝘦𝘱𝘵𝘪𝘯𝘨 𝘯𝘦𝘸 𝘦𝘹𝘱𝘦𝘳𝘪𝘦𝘯𝘤𝘦𝘴?
𝘎𝘢𝘪𝘯𝘪𝘯𝘨 𝘱𝘦𝘳𝘴𝘱𝘦𝘤𝘵𝘪𝘷𝘦𝘴?
Heroic returns: "Until finally…"
𝘕𝘢𝘷𝘪𝘨𝘢𝘵𝘪𝘯𝘨 𝘍𝘰𝘳𝘬𝘴 𝘪𝘯 𝘵𝘩𝘦 𝘈𝘸𝘢𝘳𝘦𝘯𝘦𝘴𝘴 𝘙𝘰𝘢𝘥?
𝘚𝘦𝘦𝘬𝘪𝘯𝘨 𝘏𝘦𝘭𝘱 𝘧𝘳𝘰𝘮 𝘏𝘪𝘥𝘥𝘦𝘯 𝘔𝘦𝘯𝘵𝘰𝘳𝘴?
𝘞𝘦𝘭𝘤𝘰𝘮𝘪𝘯𝘨 & 𝘈𝘤𝘤𝘦𝘱𝘵𝘪𝘯𝘨 𝘠𝘰𝘶𝘳 𝘔𝘢𝘨𝘯𝘪𝘧𝘪𝘤𝘦𝘯𝘵 𝘉𝘦𝘢𝘴𝘵?
Gently aiming towards this:
"𝘼𝙣𝙙 𝙩𝙝𝙚 𝙢𝙤𝙧𝙖𝙡 𝙤𝙛 𝙢𝙮 𝙨𝙩𝙤𝙧𝙮 𝙞𝙨…"
Storytelling Camp #2 will be another inspiring, enlightening and surprising experience.
We would be delighted to have you, join us. 🙂
What other participants said